Commissions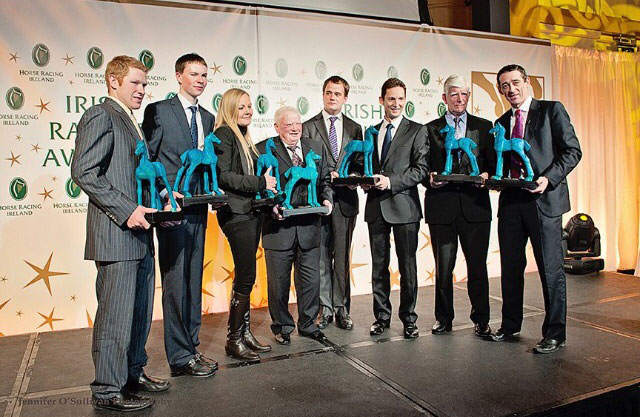 Marina is frequently commissioned for work, both privately & for high profile events.
For ten years Marina's equestrian sculptures were the most sought after prize in Irish Horse Racing. Her distinctive Blue Troys were awarded every year to the leading figures in the sport.
They were presented to the top horse, jockey, trainer, and owner as well as other prize categories.
Past winners include jockeys Ruby Walsh, Barry Gerarghty, Mick Kinnane, Trainers Aiden O'Brien, Willie Mullins and John Oxx, owners like Princess Haya of Jordan, Michael O'Leary, and Film Director Jim Sheridan.
Her sculptures hold pride of place in some of Horse Racings top yards. As Marina says, she has horses with all the top trainers in Ireland.
Marina's bronze sculptures have also been awarded at top sporting events.
This one off piece was commissioned for the World Young Rider Three day Event when it was staged for the first time in Northern Ireland. It was won by the top eventer Sherelle Duke.
Its not all about horses!
Marina was also commissioned to create a bronze sculpture of a greyhound for the Champion Stakes
Marina works in a variety of mediums but mainly Pastel and Oil on Canvas.
Cost for a 30cm x 25cm piece would be €800. (Please note that the size given is the size of the painting and the price includes framing)
Please feel free to contact Marina to discuss commissions in more detail by filling in the form below the form below or by email info@thebluehorsegallery.com